Books > Voices at whisper Bend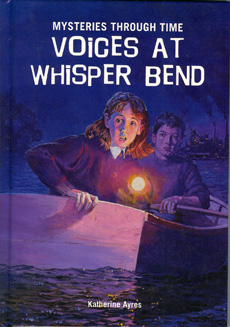 It's 1942. America has just entered World War II, and Charlotte Campbell's brother Jim has gone to fight. Twelve-year-old Charlotte wants to help the war effort too, so she and her classmates start a scrap metal drive.
When all the metal is stolen, Charlotte is furious. Her determination to catch the thief leads her out on the rain-swollen river at night. There she discovers evidence she doesn't want to find—and there she faces the fear that haunts her.
"An engaging and very believable whodunit, this novel should spark an understanding for kids of the hard times during World War II, and easily could be added to a grownup's historical mystery shelf." —Pittsburgh Magazine
First published by Pleasant Company, Voices at Whisper Bend, is now available in the series, Mysteries Through Time, through Windmill Books. (Hardback: 978-1-60754-182-0; Paperback: 978-1-60754-183-7).
For discounted quantity purchases, please call 1-866-478-0556.

Teacher Guide for Voices at Whisper Bend
The Story Behind Voices at Whisper Bend
Voices at Whisper Bend started out as a magazine story titled "Runaways on the River," which appeared in Cricket Magazine, April 1994. If you look at the chapter titles, you'll discover that Chapter 7 comes almost directly from that story and even has the same title. But the story really started on a wet spring day nearly ten years earlier. At that time I worked in a school and one of the teachers discovered she couldn't travel home after school because they'd closed the bridges over the Monongahela River to all traffic. She and her daughter came home and had dinner with my family that evening and not until later that night, when the bridges opened again, could they finally return to their house.
As in the story, the bridges had been closed because a combination of spring rains and melting snow had caused the river to rise rapidly and several barges had broken free from their moorings. A barge is a huge, flat-bottomed cargo vessel and when loaded full of coal, it becomes very heavy. When steered by a tugboat, barges are the workhorses of the river, carrying load after load of coal, grain, gravel and other heavy materials. When not steered at all, however, a barge can drift on a swift-moving current and as it picks up speed, it becomes a threat to the bridge supports downstream.
And so they close the bridges. It doesn't happen every year, just once every five years or so. Interestingly for me, the spring the story appeared in the magazine, the river again flooded and barges broke free. I took that as a good omen, if not for the river traffic, then for the story.
Another source of Voices at Whisper Bend came from my family. My parents were young adults during World War II. As a child growing up, I'd heard about the sacrifices made on the home front during that time, about rationing and sugar free cakes and victory gardens. When doing research for a book, it always helps to find people who actually lived through the events that will take place in the story and so I interviewed many older people. I particularly wanted to talk with women who had been Charlotte's age in 1942, to get a girl's view of the war and how it affected people at home.
I felt that I had succeeded in that part of the job when my father spoke to me after reading the book for the first time. He served in the Army during the war and spent time in Europe. "I never realized," he told me, "how hard it was for those at home. We soldiers knew how bad it was on the battlefields, but when we thought of home, we thought of it as it had been, and kept it in our minds with the hope that we would survive and return."
Not all of my research was about difficult topics such as war and sacrifice, however. One of the best parts of the writing life is that we writers get to discover more about things that interest us. For this book, that meant riding a tugboat along the Monongahela River from morning to night on a beautiful day in October. It was one of the best days of my life. A tug travels slowly, pushing her heavy load smoothly down the waterway. As a Pittsburgher, I thought I knew about rivers, but traveling on the river instead of the land opened my eyes. I traveled through locks and saw towns and factories from the riverside. The slow pace made it possible to discover wildlife in the unsettled parts of the region—deer and more birds than I could identify. I watched hawks soar and herons fish, sometimes in the shadows of an old coal tipple.
Part of my own history went into the book as well. People often ask if I write about myself in my books and mostly I don't. But people I've known do show up, usually in disguise. Paul Costa is based on a real boy named Paul. We were enemies in elementary school —every day when he climbed on the school bus he bopped me over the head with his heavy schoolbooks. I finally got sick of it and kicked him in the shins and scratched his arm. Unfortunately, I drew blood and raised bruises, which landed us both in the principal's office the next morning. She was a wise woman, that principal. She didn't expect us to magically become friends, but she required us to treat each other with respect. No more bopping or kicking. When I wanted to give Charlotte a person to help solve the mystery, it seemed like fun to make him difficult, just like the real Paul.
So where do my stories come from? They're a bit like baking a cake, some history, some geography, a cupful of conflict, leavened with humor, spiced with interesting people, both real and imagined, then whipped together and set to bake. I hope you'll enjoy sampling.