What's New
Two New Poetry Books
Travel poems and roadside images.
A new collection of poems for adults.

Critters and mud and rivers and mountains!
A new collection of poems for kids.
Memories from the Book Tour
The Pennsylvania OneBook Award (every young child) included an extensive book tour throughout the state of Pennsylvania. Here are some of my favorite photographs and memories from the tour.
Some of my friends drew their own gardens

Some dressed as farmers




And painted the walls like a garden

We voted for our favorite veggies

And cried for those mean old onions




Some crowds were big

Some were small


But everybody had a good time!

And everywhere I traveled, I made new friends and received a very warm welcome!

Thank you Pennsylvania!
Storywalk
For two Septembers, Up, Down, and Around has been featured in a special event at Frick Park in Pittsburgh—Storywalk—a giant celebration of picture books and literacy—sponsored by Beginning With Books (www.beginningwithbooks.org).
Books come alive at Storywalk—pages grow tall and readers share stories and crafts with thousands of children.
For Up, Down, and Around my friends at Beginning With Books built an entire garden. With huge, enormous bugs!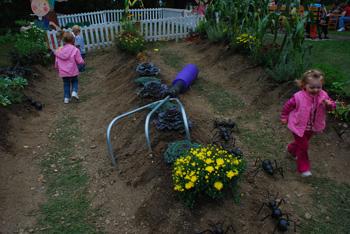 Blog Beginnings
Wonder what it's like to be a writer? Check out my new blog and see what's happening right now!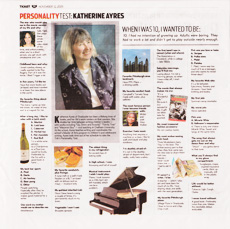 I was featured in the Pittsburgh Tribune Review. You can read the online version of the Personality Test here. And I've written about it on my blog. Check out what I have to say about the experience.