Books > SILVER DOLLAR GIRL
Valentine Harper's father has been in Colorado for more than a year, seeking his fortune in the silver boom. But Vallie's tired of waiting for him in Pittsburgh. Aunt Margaret is nice, but Uncle Franklin seems unhappy to have an extra person in the house, and Cousin Harold's pranks have been getting meaner.
Unfortunately, a girl doesn't have many options in America in 1885.
Vallie's not just any girl, though. Armed with a haircut, a dash of luck, and a big dose of courage, she trades her skirts for a boy's trousers and sets off on a cross-country journey to search for her father.
"Ayres... accurately depicts expectations of women and girls of the time, contrasting those of women living in the settled towns 'back East' with those of their less-corseted, Wild West sisters. Valentine is a spunky heroine whose saga will appeal to history buffs and adventure fans." —Booklist
"The carefully orchestrated chapters and the fast pace will hold children's attention throughout. Vallie's courageous journey of self awareness and self-reliance is one readers will enjoy sharing." —School Library Journal
Silver Dollar Girl is currently out of print. Copies are available from the author in large and small quantities. Email kayres@chatham.edu for details.
Teacher Guide for Silver Dollar Girl
The Story Behind Silver Dollar Girl
I was sitting in a small church in Basalt, Colorado when I noticed the inscription on one of the stained glass windows: In Memory of Bramblet Willets. The name fired my imagination and I began to see him in my mind, a tall, lanky guy, something of a mountain man. He was the first character to show up for the story that would become Silver Dollar Girl.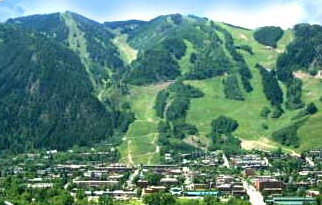 We're very fortunate to have family living in the Colorado Rockies, so my husband and I often visit, both summer and winter. It's a beautiful place, rugged and larger than life, so the setting also appealed to me. In particular, the town of Aspen has had an interesting history -- from a Ute holy place, to a silver boom town, to a sleepy mountain village, to a world famous ski resort. I chose to write about the boom town days because it was a high-energy period with lots of bustle. Because I live in Pittsburgh, it was easy to start the story there.


Vallie, my main character was partly inspired by my great grandfather, Valentine Carter. When I knew him he was an old man, tall and completely bald. He had a wicked sense of humor though, and lived well into his eighties. His early life was difficult. His mother had divorced and remarried at a time when such things caused a scandal. He and his stepfather didn't get along so when Gramp was twelve, he left home for good to make his way in the world. He got a job, found a place to live, and would be independent for the next sixty-odd years. Even as an old man, he had a lot of spunk and grit, and Vallie, my heroine, inherited that from him.


When I started the book, I didn't know about the boys living in the train station. When Vallie got to Omaha, they just showed up. Likewise, Toby, the little boy she meets in Aspen, came along when needed. The idea of the dog cart came from an old photo I discovered in the historical archives of Aspen. And the Silver Dollar Cafe was inspired by a real building that sits on a busy corner in the town of Aspen.


Like many of my stories, Silver Dollar Girl grew from hundreds of sources, personal and family stories, tons of library and museum research, and of course visits to the real places where the imagined events occur. The most memorable of these occurred on a sunny summer's day when I hiked out to the old town graveyard in Aspen. It is a sad place - small headstones carved with lambs or cherubs mark the resting places of children who died much too young. But it is also beautiful, with tall trees, wildflowers blooming and lacy iron fencing to set it apart from the everyday places nearby.
Like Vallie's adventure, writing a book often involves a journey— in time, in space, in memory, in imagination. That's what makes writing such a great job, you never know where your travels will take you, whether you'll have sunshine or three feet of snow. Or what interesting folks you'll meet along the way.